This addon is compatible with
Microsoft Flight Simulator X
. It should also work with
Microsoft Flight Simulator X: Steam Edition
. Some developers have explicitly stated compatibilty with Steam Edition but others haven't. Check the product description below for guaranteed compatibility. Just because it doesn't mention it, this does not mean it will not work with the
Steam Edition
.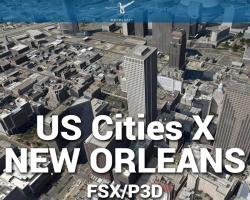 Media Format

Immediate Download

Compatibility

Microsoft Flight Simulator X inc. Steam Edition & Prepar3D (including v4)

File size

271 MB
For many people, the city of New Orleans is one of the most stunning in the United States.
With this add-on, part of the US Cities X package, New Orleans finally looks like its rambunctious self.
The city comes to life with major and minor landmarks added across the city, including various landing spots for helicopters and so much more.
Itís delivered to help make sure that this busy and culturally vibrant city now looks just as it should. When you visit a city like New Orleans, the sights and sounds should feel totally different from other parts of the USA.
Now, this add-on makes sure that it all looks as realistic as possible, with various add-ons to make New Orleans finally stand out on its own.
However, please note that there are no night time or seasonal textures included. Flights across New Orleans often look best during the day anyway, so you should have no problem in enjoying the city at this time of day anyway
For those who feel like New Orleans lacks a certain panache by default in FSX/P3D, be sure to try this add-on out.
We have included every feature that you might need to really improve the overall quality of your New Orleans experience.
Whatís new?
Aerial imagery coverage included via Google Maps helps to change the whole scenery around New Orleans, and adjust the landclass as expected.
Over 1,200 new major buildings and landmarks added, with over 30,000 autogen buildings placed in realistic locations for the best possible effect.
Major airports, helipads, and seaplane ports are included, including the NAS Base and New Orleans International, furnished with new high-resolution ground images.
Ship traffic moves up and down the Mississippi River, with paddle steamers and ferries moving around en masse.
Busy traffic moves around the roads, too, helping to populate New Orleans with the people who make it so special.
Sound effects are heard near each of the heliports and bridges to help create the sound and atmosphere of a bustling city.
Adjust and change the level of detail/performance provided with a Scenery Density tool.
Submit a review of this product
Customers Also Purchased