This addon is compatible with
Microsoft Flight Simulator X
. It should also work with
Microsoft Flight Simulator X: Steam Edition
. Some developers have explicitly stated compatibilty with Steam Edition but others haven't. Check the product description below for guaranteed compatibility. Just because it doesn't mention it, this does not mean it will not work with the
Steam Edition
.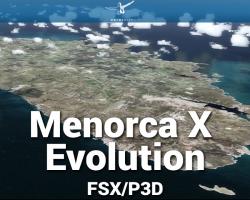 Media Format

Immediate Download

Compatibility

Microsoft Flight Simulator X inc. Steam Edition & Prepar3D v3 and v4

File size

2.6 GB
Now version 1.05. Changes include:
Changed the ship/vehicle animations as P3D renders animations to the round earth by itself now
Corrected green taxiway light which have been masked by the underlying line.
Removed "crash box" of the wig wags
Detailed CTRL-J Jetways, no more static jetways
Removal of adverts on the jetways (as in real life)
Higher resolution for concrete slabs on the ground
Overhauled AFCAD for even more realistic traffic sequences with real approaches referring to the Navdata cycle of 1702
Menorca X Evolution by SimWings completes the rework of the Balearic Islands series! The popular holiday island Menorca has been completely re-built for FSX, FSX:SE and P3D based on current aerial images. These come in a resolution of 50cm/pixel down to 25cm/pixel in the airport area. Adding to that, there is a realistic AFCAD which also includes recent approach procedures, enabling realistic approach via the FS ATC.
The ground markings, markings and lighting are up to date, as well as the state of development of Menorca Airport of this year (2016). Highly detailed, animated jetways are implemented using CRTL-J or AES. 3D PAPI lights, pre-rendered lighting (raytracing lights) and animated wind socks top off this scenery.
Features:
Up to date aerial images of the complete island in 50cm/pixel. Airport area in 25cm/pixel
Up to date state of development (multi-story car park, etc)
Loads of static objects (buses, carts, etc.)
Realistic AFCAD
Up to date AFCAD approaches, based on the AIRAC cycle 1611 for realistic FS-ATC approaches and display in the default Garmin.
Highly detailed jetways (CTRL-J)
Docking jetways (AI aircraft)
Animated traffic on and around the airport
Grass between taxiways
Autogen
Raytracing Lights and shadows (texture baking)
New ground markings for PP, taxiways, etc.
New taxiway, RWY and 3D-approach lights with one-directional beams
3D PAPI lights
Animated windsocks (using real wind direction)
Compatible to AES (Airport Enhancement Services) (FSX only / AES and FSX:SE not compatible)
Charts
Submit a review of this product
Customers Also Purchased