This addon is compatible with
Microsoft Flight Simulator X
. It should also work with
Microsoft Flight Simulator X: Steam Edition
. Some developers have explicitly stated compatibilty with Steam Edition but others haven't. Check the product description below for guaranteed compatibility. Just because it doesn't mention it, this does not mean it will not work with the
Steam Edition
.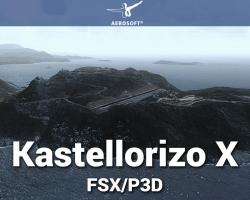 Media Format

Immediate Download

Compatibility

Microsoft Flight Simulator X inc. Steam Edition & Prepar3D v3, v4, v5

File size

1 GB
Turkey, as one of the foremost attractive nations to visit on Earth, is known for its unique landscape. Part of what makes Turkey so special, though, is the small islands based just off of its coast. One of the islands, Kastellorizo, is a truly special location to come and visit. With just 500 inhabitants today, it makes a quaint and rather enjoyable place to come and spend your time.
This scenery group by Aerosoft is designed for FSX and P3D users to help see this little island at its best. If you want to fly over a tranquil, safe, and hugely enjoyable island, bustling with scenery and not overtaken with life, this add-on helps to add the pre-requisite detail needed.
Designed to help add an extra level of authenticity and detail, this helps to make trips to Kastellorizo a touch more enjoyable. The fresh, high-end scenery helps to make the entire venue look much more realistic. Crisp textures and smart usage of said textures make the island below look much richer than previously possible.
Framerates never dip too much, either making this an easy and fully enjoyable aircraft to take to the skies in. Color coordination is outstanding, too, ensuring the island always carries a rich flair and impressive detail. So, whether you hail from the isle or would like a virtual tour, this small but feature-packed scenery package makes a fine starting point.
Key Features
Impressive attention to detail totaling over 1GB in file sizes ensuring you're left with a comprehensive scenery package.
High resolution and fully customized scenery and meshing allow for the island to be covered.
Total coverage of the airport, too, ensuring that every landing on Kastellorizo is as glamorous as possible.
Texture changes to both scenery and buildings help to improve the standard of the entire island, not just the basic layout.
Kastellorizo's own little town comes to life, with popular locations and landmarks lit up in attentive detail.
Massive changes to the lighting and models around the island help to make the whole process far more hospitable.
New sound effects pay in the distance, from the church bells to the animals tweeting in the distance.
Human models are included to help add even more life and character to the island, bringing it up to a modern standard.
AI ships head in and out of the model, making sure that the liveliness of the island is never lost.
Animated windsocks for V2.0+ users, adding further immersion to your journey to this island.
Fully compatible with most known global add-ons such as FSGlobal, GEX, and UTX.
Submit a review of this product
Customers Also Purchased