This addon is compatible with
Microsoft Flight Simulator X
. It should also work with
Microsoft Flight Simulator X: Steam Edition
. Some developers have explicitly stated compatibilty with Steam Edition but others haven't. Check the product description below for guaranteed compatibility. Just because it doesn't mention it, this does not mean it will not work with the
Steam Edition
.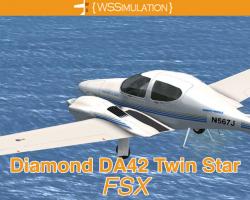 Media Format

Immediate Download

Compatibility

Microsoft Flight Simulator X

File size

35 MB
The newly developed Diamond DA42 Twin Star for FSX flight simulator is now available for immediate download! The Diamond DA42 Twin Star for FSX is the much anticipated follow-up to the celebrated Diamond DA-41 Diamond Star XLS produced by Diamond Aircraft Industries.
This flight simulator is ideal for aviation and video simulation enthusiasts alike. The Diamond DA42 Twin Star for FSX is a fantastic practice tool for those pursuing careers in aviation. The beautiful simulated scenery makes for interesting and complex landscapes for the future pilot to navigate. While interacting with the simulator, the pilot is able to shift perspectives, witnessing the flight from different areas of the cockpit as well as viewing the aircraft from several exterior angles.
The simulator includes an extensive and precise animated exterior which features the doors, elevator, and composite landing gear. The simulator also spotlights a heavily detailed three-dimensional cockpit complete with all pumps, levers, and switches necessary to pilot a twin engine Diamond DA-42. Furthermore, the highly realistic light and sound features make for a genuine flight simulation experience.
The reasonably priced download of the Diamond DA42 Twin Star for FSX flight simulator includes an extensive PDF User Manual that explains the control panel and features in great detail. This simulator is incredibly user friendly.
The DA-42 Diamond Twin Star is the perfect fit for trips of all distances and users of all experience levels. Any issue one might encounter is explained in great deal in the PDF that accompanies the simulator download.
The beautiful and realistic imagery, detailed and user friendly features, various viewpoints, reasonable price, extensive user manual and simple download process make the Diamond DA42 Twin Star for FSX a top choice flight simulator for anyone interested in a genuine and authentic twin engine flight experience.
Manufacturers Description
Now from flight sim developer WSSimulation is their Diamond DA42 Twin Star package for Microsoft Flight Simulator X.
The Diamond DA42 Twin Star is a four seats, twin engine, propeller-driven airplane manufactured by Diamond Aircraft Industries. Its airframe is molded largely of composite materials. The airplane is made of carbon composite material. It is equipped with a Garmin G1000 glass cockpit and powered by two 180 hp (130 kW) Lycoming IO-360.
Exterior model, made in Gmax with the standard quality materials of the Flight Simulator X. High definition textures and normal map makes this model one of the most realistic aircraft in Flight Simulator X.
Full animated exterior
Flap
Wheels
Ailerons
Elevator
Rudders
Land Gear
Doors (Open/close)
Animated 3D Virtual Cockpit
Doors (Open/close)
Control
Throttle lever
Mixture lever
Parking Break lever
Flaps lever
Many electrical switches
Magnetos
Fuel Pumps
G1000 Modified for this aircraft.
The package contains five real liveries, also includes PDF User Manual with real information. This Manual have the Aircraft control panel description and a very extensive checklist.
The Cockpit is a very high accurate 3D model, and fully interactive. It is made in Gmax and all switches are controlled like a real aircraft with all animations.
The cockpit have realistic nightlight with exclusive effect.
It has sound pack.
Make sure that your system meets the minimum requirements to run Diamond® DA-42 Twin Star by WSSimulation
Intel® Pentium® III or equivalent processor
Microsoft® Windows XP with Service Pack 2, Windows® 2000 with Service Pack 4
256 MB of RAM (512mb recommended)
Video card (64mb) (256mb recommended)
250 MB of available hard disk space
Microsoft ® Flight Simulator X®
Submit a review of this product
Customers Also Purchased