This addon is compatible with
Microsoft Flight Simulator X
. It should also work with
Microsoft Flight Simulator X: Steam Edition
. Some developers have explicitly stated compatibilty with Steam Edition but others haven't. Check the product description below for guaranteed compatibility. Just because it doesn't mention it, this does not mean it will not work with the
Steam Edition
.
Sound Pack Compatibility Note: This sound pack will work with any aircraft model, both freeware or payware in FSX and P3D.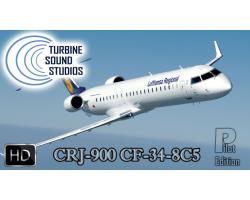 Media Format

Immediate Download

Compatibility

Microsoft Flight Simulator X inc. Steam Edition and Prepar3D (all versions including v4)

File size

96 MB
If you have never have the pleasure of flying a Bombardier CRJ-900 before then you really are missing out. One of the most impressive Canadian jets ever made, this regional jet flies under the Bombardier Aerospace team and has been around since 2001. Its long history so far has seen it take on many flights and impress many people, but one of the most impressive factors of the aircraft is the fact that it's so quiet when flying.
It's noted for the lack of sound when flying, but this mod manages to capture that minimal audio just as it sounds realistically.
Although a fairly quiet aircraft, there is still more than enough activity going on within the pilot's cockpit and the rest of the aircraft to be able to clearly hear the aircraft. Equipped with two massive GE CF34-8C5 engines, this aircraft was capable of large thrusts of up to 13,400lbf.
This massive range of power made it hugely popular with pilots who were learning how to fly regional liners for the first time, and the noise was captured in this package to be an enjoyable background noise without taking over your thoughts or damaging your ability to concentrate on the flight.
This packages captures every sound that you would realistically hear during a flight in stunning HD quality, re-mastering every last sound along the way to make it all sound absolutely fantastic, including key features to the aircraft sound system that would have included things such as the following;
Internal and external engine sounds that match up perfectly with the real thing, sounding just as they should and making the aircraft easily stand out from the crowd and become far more noticeable than they would have in the past. These sounds are kept to a minimum, though, ensuring that you can keep your concentration along the way during the flight

Wind sounds that howl down and beat against the aircraft just as they do when flying a real aircraft; this pivotal part of the experience has been captured in sublime detail, making it really easy to understand it's massive popularity

Cockpit environment sounds that include gears shifting and your dashboard responding to your requests and commands for the perfect simulation of what a cockpit would typically have sounded like

Geardown and Gearup sounds to make sure that you can easily hear the aircraft getting itself into the position for either taking off or landing

Customized startup sounds that fill up the cockpit and make it incredibly easy to hear how the process is going so far

Warnings that exhibit key problems like going too fast, stalling the aircraft or having the gear up whilst you are in the middle of the flight

External APU sounds to finish everything and make it all come together perfectly
The Pilot Edition of this aircraft further manages and balances each aircraft provided, making them sound just as they would have for any real pilot who happens to get in the cockpit, balancing it perfectly
Submit a review of this product
Customers Also Purchased