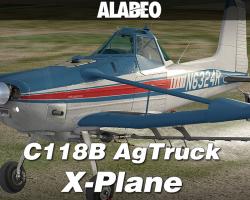 Media Format

Immediate Download

Compatibility

X-Plane 10.40 or higher

File size

138 MB
Now version 3.2.
The Alabeo development team have been hard at work producing more Flight Simulator add-ons, this one is the C188B AGTruck, an agricultural aircraft capable of carrying 280 gallons and powered by a 300hp six-cylinder engine.
The high quality model maintains its detail all around the aircraft, from the propeller to the spray nozzles on the wings, the result is an aircraft that looks great and feels authentic. It features normal mapping that brings the whole aircraft to life; true 3D brings out all of the small details like rivets and screws holding down sheet metal. The blank texture that is provided means you can make your own liveries for this aircraft, or share them with the X-Plane community.
A unique chemical loader interface is included that displays your current chemical quantity and allows you to refill the liquid as and when you need to. A chemical fumigation effect will show you jettisoning large amounts of liquid out of the series of nozzles on the rear of each wing. It is both a great deal of fun and a challenge to try and get the maximum amount of coverage in one sweep as you constantly need to make adjustments; the professional flight dynamics take into account the weight reduction as you drop chemical liquid. They also do a great job capturing the behaviour of the C188B in standard flight.
Custom 3D sounds are used to blend the model with the vibrant world around you; the engine sounds are impressive and are best appreciated inside the small cockpit, where you can feel everything rumbling.
The C188B AGTruck is a small aircraft with straight forward systems, but with strong visuals and a great deal of character, it would make a fine addition to anyone's virtual hangar.
Features:
Chemical fumigation liquid effect.
Chemical loader interface.
Dynamic weight.
Real weight reduction as you drop chemical liquid.
Professional flight dynamics.
Custom 3D sounds.
High quality 3D model, textures and sounds.
Blank texture for creating your own designs.
Review
Because itís a small aircraft with not too many complicated or complex systems to simulate, the external model is, to me, very close to the real C188. I'm walking from the nose of the fuselage with engine and propeller via the leading edge of the wing and tip, the trailing edge with spray nozzles and on to the tail. Then from here back to the front of the aircraft, with the end result an awesomely detailed model. The model comes with normal mapping and believe me, you canít miss the resulting 3D look when suddenly, rivets, sheet metal plates, screws etc. become visible. - Aerosoft
Submit a review of this product
Customers Also Purchased