This addon is compatible with
Microsoft Flight Simulator X
. It should also work with
Microsoft Flight Simulator X: Steam Edition
. Some developers have explicitly stated compatibilty with Steam Edition but others haven't. Check the product description below for guaranteed compatibility. Just because it doesn't mention it, this does not mean it will not work with the
Steam Edition
.
Sound Pack Compatibility Note: This sound pack will work with any aircraft model, both freeware or payware in FSX and P3D.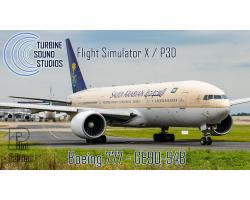 Media Format

Immediate Download

Compatibility

Microsoft Flight Simulator X inc. Steam Edition and Prepar3D (all versions including v4)

File size

142 MB
Do you like the Boeing 777 GE-90-904B? Then this tremendous take on the Boeing 777 GE-90-904B sounds is just what you need. Created by Turbine Sound Studios, this introduces a whole host of HD sounds for top quality atmospheric improvement. Sounds are just as important for an intricate and engaging aviation experience, so let these add atmosphere in abundance!
This specific Pilot Edition is designed to make sounds heard as if they were heard from the safety of the cockpit this creates impressive sound management, ensuring that you can hear exactly where sounds are emanating from to help add to the atmospheric quality of the experience.
Developed to cover the PMDG Boeing 777 models, this helps to make sure you can get all the help that you need to really make flight feel so much more authentic. All sounds use the authentic General Electric GE90, a group of high bypass turbofan aircraft engines. Made for the 777 specifically, these produce a whopping 360-510kN. As part of the British Airways grouping since the mid-90s, the 777-200, 200ER and 300 versions all produce that classic roar.
As the largest and most powerful jet engine around, this sound package helps to perfectly portray the ferocity within!
Key Features
Helps to produce impressive external and internal engine noises with crisp quality to let you know exactly what your Boeing 777 GE-90-904B is doing!
Wind sounds whizz by, creating that particular sound that any pilot should be used to hearing by now.
Cockpit environment and gear sounds provide you with a very enjoyable and immersive audio experience. A must-have for anyone looking for extra ambiance and atmosphere in the cockpit.
Customized and bespoke distance and dynamic sounds help to make your time in the cockpit of the Boeing 777 GE-90-904B so much more enjoyable, adding so much to the atmosphere.
Submit a review of this product
Customers Also Purchased