Aspen Extended Scenery for FSX/P3D

3 reviews


This addon is compatible with
Microsoft Flight Simulator X
. It should also work with
Microsoft Flight Simulator X: Steam Edition
. Some developers have explicitly stated compatibilty with Steam Edition but others haven't. Check the product description below for guaranteed compatibility. Just because it doesn't mention it, this does not mean it will not work with the
Steam Edition
.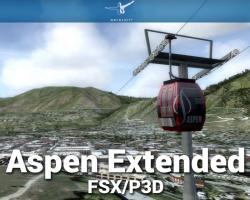 Media Format

Immediate Download

Compatibility

Microsoft Flight Simulator X inc. Steam Edition & Prepar3D (v3.2+ and v4)

File size

3 GB
As a part of the world that many people might want to visit but never find the time, Aspen has become a place of real interest within the world of flight simulation. For a start, many people see it as the perfect way to have some fun and adventure within their flights, and with this remake of the Aspen Pitkin County Airport it's easy to see why!
Now, you can come to a total remake of the location, but the surrounding areas as well. With around 7,280t of height to get to the airport, though, Aspen is a location that suffers from extremely cold weather.
With this mod, the team tried to capture that element perfectly to make sure you can get the perfect rendition of Aspen Pitkin County Airport. Whilst this is usually only used by the likes of Learjets and other private industry jets, the airport itself does see many other aircraft arriving. Whatever you feel like flying here, though, you can easily make your way to Aspen Pitkin County Airport with this mod and get to witness it properly.
What's New?
With this mod, you get a proper remake of the Aspen Pitkin County Airport itself with extended runways, new taxiways and even a proper fire station included. You can also see totally fresh new hangers and terminals with a brand new fixed-base operator thrown in for good measure, as well!

Makes use of fully baked in textures that use high resolution imagery and ambient occlusion to blend the entire setting together. Utilizes the right changes in this element for both town and airport models.

100 square km of high resolution photo scenery – 30cm with LOD17 – making sure that Aspen Valley is covered in proper seasonal textures that follow historical precedent, improving the realism in kind.

A new 5m LOD13 mesh is being used to cover around 2,400 square km of the Rocky Mountains which surround Aspen.

New tarmac and runway markings are included with realistic and fresh wet weather and specular effects to really help sell the overall image of the region.

VFR and IFR approaches have been recalibrated, helping you get the perfect level of assistance to get here.

Makes use of detailed rendering on various elements of the airport, such as the Aspen Valley Hospital and even the emergency helipad for good measure.

New local landmarks from the high school and the chapel right through to the Benedict Music Tent have been changed entirely to make sure that Aspen feels as alive as possible.

Introduction of a new animated Silver Queen gondola to Ajax has been included for extra realism and quality.

An extremely dense, freshly customized Aspen-based autogen system has been used to ensure that houses and mansions match the local architecture.

Static aircraft sit around the place, with CRJ-700s in Delta and United Express liveries are included.

Realistic new runways and street lighting systems makes sure the whole place can feel much more accessible than before.

Works in tandem with mods such as Vero-FS 'Heart of Colorado'
Customer Reviews
Rated 5.0/5.0 based on 3 customer reviews
04/20/2016

5

/

5

Verified Purchase

I LOVE Aerosoft & I LOVE Aerosoft Scenery BUT! I do not understand WHY I crash ON the RUNWAY when I am in the Middle of the white lines AND I have not hit ANYTHING!
04/20/2016

5

/

5

Very realistic and simulate what Aspen looks like as I've seen recently
06/07/2016

5

/

5

Hi Donald, this problem is now fixed with Aspen Extended 1.1 :) Mat
Submit a review of this product