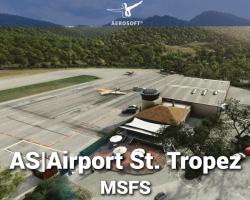 Media Format

Immediate Download

Compatibility

Microsoft Flight Simulator (MSFS) 2020 Release

File size

707 MB
A fully-featured add-on for Microsoft's latest flight simulator release, Microsoft Flight Simulator (MSFS) 2020 bringing the famous St. Tropez Aéroport La Môle airport to life in the simulator.
The default version that Microsoft included was not as close-to-life to the real version as virtual aviators needed or demanded so the development team at Aerosoft remedied this with this stunning release.
The scenery pack brings the entire virtual airport rendition up to high definition – and more importantly – accurate detail based on the real-world example.
The airport is located around 15km southwest of Saint-Tropez – a popular hotspot of the wealthy and elite. The airport is used as their chosen destination for easy access to the area when flying in on their private jets. It's also close to Monaco and Nice – also equally as famous.
The airport is also used by an array of charter aircraft companies and local aviation clubs.
The scenery is based on the latest imagery sources of the area and features manually developed 3D objects such as hangars, buildings, and objects around the airport.
Also included as a bonus are completely upgraded and reworked villages of La Môle and Le Moulin Roux all including hand-placed vegetation such as trees and plants.
Along with complete autogen including buildings, landmarks and objects this add-on really brings the entire area in and around the airport to life ready for some realistic simmin'
Key Features
Recent orthophoto (photoreal) imagery used for the area covered
A complete rework of Aéroport La Môle
The latest PBR (physically based rendering) technology has been used for textures and objects in the coverage area
Highly accurate, hand-generated 3D modeling of buildings and hangars in the airport proximity
Static aircraft and light aircraft matching what you would find at the real-life airfield
All of the latest up to date taxiway markings, runway numbers, and ground signage has been included
A fully-featured custom-designed 3D night lighting model has been included
AI traffic routes have also been coded to ensure that the default AI traffic are included accurately with this airfield.
Submit a review of this product
Customers Also Purchased