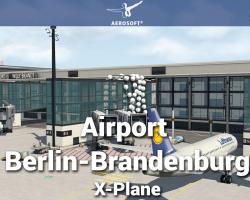 Media Format

Immediate Download

Compatibility

X-Plane 11

File size

3 GB
X-Plane 11 holds many grandiose and extensive airports for you to come and visit should you so choose. However, the Berlin Brandenburg International Airport lacks the detail that one would expect from one of the largest airport construction sites in all of Europe.
As what is seen as the most important airport in Germany finally opens its gates for X-Plane 11 users, you can see this massive aviation complex in the closest detail possible.
The airport itself has endured a rough opening period, with construction work starting as far back as in 2006. However, while the public opening was expected to be possible by October 2011, things changed. Costs and times have skyrocketed, with estimates for both the final cost and the final timescale changing all the time. Continuous delays and problems are commonplace on-site, with issues holding back the entire process to an unprecedented level.
Thatís why, for many people, Berlin Brandenburg International Airport is such an exciting addition to X-Plane 11. With no genuine completion date that can be trusted, who knows when youíll get to fly to this airport in real life?
For now, you can enjoy a trip here whenever you please through the comfort of your simulator. This impressive and immersive take on the airport ensures that any trip here should feel rewarding.
Users will also get to see the Airport Berlin Schonefeld Airport come to life, with similar quality of life improvements made there, too. With easy to configure settings options provided to help you choose the status of the airport you wish to use, you can make sure that your X-Plane experience is never hindered, only helped.
Until the Berlin Brandenburg International Airport finally opens its gates for pilots in the real world, why not come and see what is available and on offer from the airport in X-Plane 11 instead?
Key Features
Over 100km2 of coverage included in this add-on to ensure maximum detail.
0.2-0.4m/pixel image detail creates some of the most immersive, realistic textures.
See Berlin Brandenburg International Airport in rich HD textures that fit X-Plane standards.
A design of the airport that fits Berlin Brandenburg International Airport as of Fall 2018.
Includes Schonefeld Airport to the north of Berlin in the same enriching detail.
Switch from SXF and BER operations with the use of a configuration file.
3D grass and vegetation included to help populate the surrounding area properly.
Comes with new and improved animated jetways and approach lights (SAM plugin needed).
Dynamic objects and lighting help to populate the airport and improve realism.
New day and night textures used across the airport to maximise visibility all-day.
Compatible with major add-ons such as World Traffic 3, as well as default AI.
Submit a review of this product