This addon is compatible with
Microsoft Flight Simulator X
. It should also work with
Microsoft Flight Simulator X: Steam Edition
. Some developers have explicitly stated compatibilty with Steam Edition but others haven't. Check the product description below for guaranteed compatibility. Just because it doesn't mention it, this does not mean it will not work with the
Steam Edition
.
Sound Pack Compatibility Note: This sound pack will work with any aircraft model, both freeware or payware in FSX and P3D.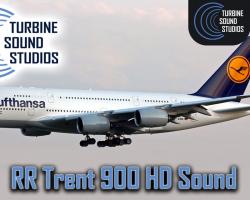 Media Format

Immediate Download

Compatibility

Microsoft Flight Simulator X inc. Steam Edition and Prepar3D (all versions including v4)

File size

162 MB
For many people, the enjoyment of flying an aircraft in a simulator comes from being able to actually engage with it effectively and to get that true feeling of uniqueness when you first take off. However, this is naturally quite a hard thing to recreate without the right sound and audio; the graphics and performance is one thing, but without the right media behind you it can be hard to truly buy into the process and make it feel absolutely unique. To sort this problem out, you need to look into these brilliant packages by the Turbine Sound Studios team.
Masters at what they do, these packages manage to perfectly encase the way forward for your own education and learning as a pilot. The graphics are only thing, but the audio is far more important for many people.
The audio lets you hear when the aircraft is in trouble and when you need to make a structured change to the flight to make sure that you can get there when and where you need to. Looking for help in doing so? Then this package covers the Airbus 380 aircraft as well as the Rolls-Royce Trent 900.
Used in various aircraft like the Airbus A380, this 2004 engine was used for varying reasons but one of the most important reasons it was even created was due to its higher thrust ratings and its overall power and placement within the aircraft. It's easier to manage and more adaptive to different aircraft, but more importantly it was a little bit less invasive than previous models.
This modification captures that perfectly within the Trent 900 design, and makes sure that the full thing looks absolutely outstanding along the way. This simple, effective design will help you get used to the aircraft by adding things like;
Compatibility with any flight model that uses the Rolls-Royce Trent 900 package

External and internal engine sounds that sound and look fantastic, working alongside the actual aircraft you are flying

Gear sound that let you know just where you are at with regards to the aircraft picking up the pace and performing in the right manner

Wind sounds that make sure the environment is easily heard and makes it nice and simple for you to know when you might have just flown into the eye of a storm during your flight!

Cockpit environment sounds that put everything together in harmony and ensure that the sound and the nature of the aircraft will run together perfectly. You'll hear everything from the floor creaking inside the cockpit to the dashboard in front of you responding to your every command

A FSX-only soundcone feature that manages to ensure that sounds travel and appear just as they should in the real world; they'll be easily heard and will dynamically change depending on where you are in the cockpit and where the sound came from

Rolling and rumbling sounds have been made to fit the aircraft, using authentic noises from a real flight to do so
Submit a review of this product
Customers Also Purchased