MAP! In-Flight Map for FSX & FS2004

2 reviews

This addon is compatible with
Microsoft Flight Simulator X
. It should also work with
Microsoft Flight Simulator X: Steam Edition
. Some developers have explicitly stated compatibilty with Steam Edition but others haven't. Check the product description below for guaranteed compatibility. Just because it doesn't mention it, this does not mean it will not work with the
Steam Edition
.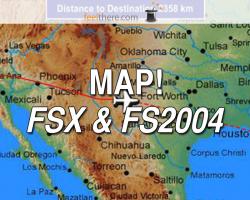 Media Format

Immediate Download

Compatibility

Microsoft Flight Simulator X & 2004

File size

16.3 MB
Just like the cabin screens in a real airliner's passenger cabin MAP! will display the track of your flight. In addition, a sequence of screens shows a variety of flight information such as elapsed and remaining time, distance, altitude, wind information, and temperature (to name just a few).
MAP! is compatible with all default and add on airplane or helicopter.
MAP! reads the timezone information from FS and feelThere does not take responsibility of it's accuracy.
Video
Review
MAP really shines if you have multiple monitors since it can be resized or undocked. One cool thing about it is that, just like on the real flight, you can have map on one of the monitors, turn the other(s) off and then take a nap. From the couch, it is easy to see if you are closing in on your airport or if you can continue to nap. Map is nothing more then a moving GPS window, yet it is dressed differently. While in cruise and if you have a virtual cabin, take the passenger seat and you can really simulate that awesome boredom of the long haul flight. - Avsim
Customer Reviews
Rated 3.5/5.0 based on 2 customer reviews
09/19/2020

5

/

5

Verified Purchase

A nice bit of fun eye candy. I installed it on a Win XP machine running Fs2004 and it worked without a hitch. It is what it says on the tin a cabin route display as found in many airliners. The zoom levels and screen switching are automatic, but you can alter the speed of the screen switching. It is best suited to longish airline flights because of the limited zoom levels. A flight from KORD to KCMI 122nm the track was to small to see, KORD to KBOS 775nm was fine. Installed on the default B737-400 showed no loss of frame rate (machine 70 FPS locked at 35) Installing and uninstalling had no effect on the default panel even though I had added 4 custom gauges on the Shift+?, combinations. Strangely it switched flying tip on when installing. The simicon was in an awkward place, un-docking moving and re-docking solved the problem. An excellent bit of software.
02/19/2018

2

/

5

Verified Purchase

Could not get to work at all spent 4 hours trying to get this thing to work Does not work for FSX

Maybe it because i am running windows 10
Submit a review of this product