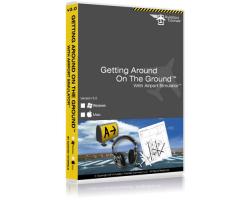 Media Format

Immediate Download

Compatibility

Windows (all versions)

File size

167 MB
If you have spent even a slight modicum of time around flight simulation in the past, or even just aviation in general, you will no doubt have heard the term "runway incursion" on more than one occasion. This is when an airport suffers an incident involving anything from a vehicle, object or person on the ground that creates some kind of obstacle on the runways. This could, in turn, impede other aircraft from being able to take off or even land.
Therefore, it's vital to always be listening to the information that is being re-directed to you by the airport. With the numbers of incidents on runways rising every year since 2011 in the real-world, the best thing to do is go away and practice what you are struggling with.
This guide is the perfect way to do just that – it introduced you to a whole new way to understand how to become a better pilot in terms of taking in and then understanding information that you are being provided with. To avoid becoming one of the growing numbers of statistics about runway incursions, you absolutely need to try this!
What You Get
3 hours of high intensity training that will leave you more secure and comfortable than ever in the cockpit of any kind of modern aircraft

Split up into 16 different modules, this is very easy to follow and learn with. This ensures you'll become a more secure, experienced simulation pilot

A version of Airport Simulator for you to try out everything that will be discussed throughout the tutorials for maximum practical exposure within each module

40 scenarios built around taxis and why you need to make a specific decision about dealing with these situations or risk your aircraft being compromised

Content that is up-to-date and follows all of the modern conventions when it comes to flying an aircraft and actually being able to get it

60 quiz questions that test our passion and your knowledge severely, ensuring that you will get all the help you need in improving quite quickly

A final examination that makes perfect sense to follow if you need details and information about how to take things forward and become more rounded
Key Lessons
With this package, you'll be able to learn more and more about the key features of using a flight simulator effectively. Since it comes with Airport Simulator, you will easily be able to get all the practical assistance you need in not just learning, but doing as well. This makes it much easier to actually put all the hours of theory that you will get here into some legitimate practice
A virtual airport taxi simulator, you will get to experience going back and forth with Air Traffic Control as well as being able to follow all of the right instructions. This includes things like hold short and runway crossing tasks to ensure that you are following the real-life procedure. This lets you see everything from all perspectives instead of just the pilot's cockpit like you would be used to in a normal flight simulator
You will do various practice sessions to make sure you can get through without causing some kind of crash or damage; and it's very challenging! This lesson will let you see just how hard even simplistic tasks can make flying an aircraft for pilots. It will also help you get another side to the experience from the perspective of a pilot
Two airports are included, too, so you will be able to test these theories out more than 40 different lanes!
Your main lesson, though, is the final examination that you need to take. This will test you on everything that you learn throughout the hours of practical training and theory testing, ensuring that you get all the help that you need in becoming a more balanced and rounded pilot
You'll be learning how to become a safer pilot as well as a better pilot; you'll also need to show your sheer commitment to getting through a flight in a safe and professional manner to earn your WINGS account. This is a huge challenge and will really push your knowledge to the limit
Benefits
Not only will you get access to your prestigious WINGS credit, but you will get to know that you passed several hours or professional training made up by experts who know their stuff and can certainly give you challenges that even the best simulation pilots would struggle with!

This will give you more information and advice about flying in general as you will get to see things from the taxi perspective, too. now you can make sure that you are going to be taking off when the coast is clear and when you have the legitimate permission of your vehicle to actually take off in the first place

Built for Windows and Mac, this is a brilliant tool that can be used by anyone regardless of the machine that they are operating on. If you want to become a better pilot then you want to start with this

High levels of graphic design and many hours' worth of dedicated training and fact checking ensure that this looks absolutely outstanding whilst also presenting an accurate, enjoyable experience for everyone. Everything that you go through most of the time will be from the perspective of a pilot, giving you absolute control over the full experience

Get access to brilliant case studies that give you real-life examples of what you are learning about. This will give you a greater appreciation of the scale of the task itself and how much you need to actually learn and put in place to become the best pilot that you can

3D graphics that make sure you are getting more than just an artist's impressions or a cheap 2D representation. This carries proper graphics to give you a real feel for how it would all look when it starts – this prepares you so much better

Get yourself pushed through the mill with various quizzes, so you can become a far more rounded and intelligent pilot about the subject of aviation in general. It's all about being able to get into this mindset and make sure you are learning all the time so use these quizzes smartly!

Go through all of the signs, markings and lighting options that might come up when you are flying the aircraft. This will help you manage and prepare so much easier for the future, helping you avoid confusing scenarios that will make it harder to understand what is going on

Following procedure throughout will help you get used to what the professionals do in these situations, and this will ensure that you get the right procedures under your belt quickly. This will help you get used to proper ground operations and the benefits of regularly using communication for further advice

You always need to be able to follow realistic tips and information to become a better pilot, and this manages to fit all of this into the one package to make your whole learning experience so much more enjoyable than it used to be when learning through trial and error!
Key Features
More than 125 original graphics and animations have been made up in full 3D to represent just what you are getting involved with; this will make your life so much easier in the future, giving you all the help that you need to learn how everything would really look

You'll go through an overview of some of the most important aspects of flying, with full sound narration included to make sure that you don't miss a single thing along the way

Skills provided and taught to you so that you can prevent any potential for runway incursions and similar problems

Complete descriptions and visual knowledge of the most important markings and signs, preparing you for flight by understanding the most delicate aspects of taking off safely

Running general flight operations is explained in explicit detail, helping you move on from the usual trial and error that can waste many hours

Quick tips that you can get to use with more or less immediately, helping you get to grips with the overall flight experience and also be capable of understanding just what is going on at all times

A final examination that will push you to the very brink and make sure you are learning from every possible angle along the way, testing you on your knowledge of the most difficult and relevant of airport etiquette

Ground procedures will be taught to you in a way that will ensure you aren't likely to forget any time soon!

16 unique instructional sections all split up into easy to manage modules, helping you get all the information that you need whilst also being more than capable of firing up Airport Simulator and trying it all out for yourself to become a better, more balanced pilot along your path to success in your simulator
Submit a review of this product
Customers Also Purchased