This addon is compatible with
Microsoft Flight Simulator X
. It should also work with
Microsoft Flight Simulator X: Steam Edition
. Some developers have explicitly stated compatibilty with Steam Edition but others haven't. Check the product description below for guaranteed compatibility. Just because it doesn't mention it, this does not mean it will not work with the
Steam Edition
.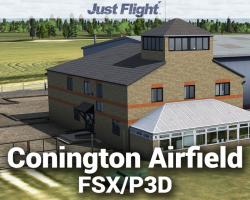 Media Format

Immediate Download

Compatibility

Microsoft Flight Simulator X inc. Steam Edition & Prepar3D v3, v4

File size

870 MB
While many aviation fans will be happy to stick to large-scale airports, an airfield offers a much more challenging yet enjoyable experience. With the help of this Conington Airfield add-on, you can turn this famous flying club into the venerable airfield that it is. This popular location is one of the most enjoyable flying clubs in the world to visit, with aircraft like the G-BOZE, G-BGKU, G-BGAE, and G-GCCL all reside.
With impressive in-house changes making sure that these aircraft look as realistic as possible, this ensures all of Conington Airfield looks much more intricate and immersive. A trip here will now make sure that you can transform FSX and P3D v3/4' take on the airfield and make it much more realistic.
These simple structural changes will make sure that any trip to Conington Airfield now fees far more welcoming. This Cambridgeshire airfield is one of the most popular in the UK and brings people from local areas like Peterborough and from much further afield. It started out in 1942 as a strategic RAF airbase, known as RAF Glatton. It was commonly used by the Flying Fortress aircraft during the Second World War.
While it was eventually mothballed after the USAF moved on after the war, it was active from the 1970s onward. In 2000, it was used for more than just general aviation when it transformed into the opulent Conington Flying Club. It holds a reputation as one of the most airfields in the UK and comes with an impressive 987m asphalt runway and an 800m unlicensed runway. It also provides access for helicopter operators and for a hard apron area, making it the perfect place to take-off and land at for any pilots in the area.
What's New?
A faithful recreation of the popular Conington Airfield, or Conington Flying Club.
Impressive on-site research ensures all buildings are in the right location.
Custom trees and new 3D grass adds to the unique nature of the vegetation around Conington Airfield.
New changes to the scenery can be adjusted for better performance with the use of the new Scenery Manager included.
Authentic new changes to the whole airbase and its surrounding areas are increased thanks to seasonally-sensitive ground textures.
Custom ground polygon counts and AFCAD to help make sure that all of Conington Airfield looks accurate and impressive.
New shadowing included for all objects, including any scenery added in and around the airbase.
Accurate placement of all airport signage, runways, and taxiways to fit with authentic geography.
Night lighting included helping improve visibility and ease of access when arriving at night.
Frame rate and VAS friendly solution to help make sure you can add more to the countryside without harming performance.
Fully compatible with Orbx FTX.
Full PDF manual included for anyone unsure of anything to do with the new and improved Conington Airfield
Submit a review of this product
Customers Also Purchased