This addon is compatible with
Microsoft Flight Simulator X
. It should also work with
Microsoft Flight Simulator X: Steam Edition
. Some developers have explicitly stated compatibilty with Steam Edition but others haven't. Check the product description below for guaranteed compatibility. Just because it doesn't mention it, this does not mean it will not work with the
Steam Edition
.
Sound Pack Compatibility Note: This sound pack will work with any aircraft model, both freeware or payware in FSX and P3D.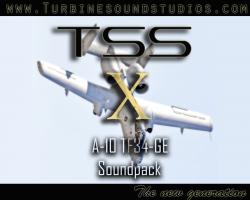 Media Format

Immediate Download

Compatibility

Microsoft Flight Simulator X inc. Steam Edition and Prepar3D (all versions including v4)

File size

50 MB
As any flight sim fan will know, the quality of the sound plays such an important role in creating that sense of immersion. It can be hard to do alone, but this Turbine Sound Studios package should make a difficult process much simpler.
This package delivers all manner of bespoke sounds, all created to help match up with the A-10 TF34-GE. It's an impressive body of work which uses high quality, authentic recordings from every angle. This helps to make sure that you can get an aircraft which sounds – and feels – just right. From the new ambient cockpit sounds to the impressive custom stalling and custom flap noises, there's a lot of work invested into this.
The aim is to try and create a sound package which delivers a rich blend of custom sounds for all aspects of aviation. From the sound of the custom flaps kicking into gear to the sound of the wind whistling by, this captures the sounds of real-life aviation quite impressively.
It's based on the old A-10 engine developed by General Electric. This single-stage fan engine utilized a four-stage low-pressure turbine for booming performance. That's captured in the volume of the sound, giving you the help that you need to really create that sense of lasting inner immersion as you fly.
Key Features
Highly impressive performance, delivering a sound package that fits the aircraft it is aimed at. The A-10 now sounds just as it should in real life.
This also makes impressive use of the soundcones found in FSX. This allows for the sound to travel around you from every angle for that best immersion.
All major sound moments captured perfectly and put together to help create a fair take on the famous GE TF-34 engine itself.
Fully suitable for all A-10 models flying in FSX: a fine add-on for any take on the aircraft.
New custom wind sounds will improve the way that you fly creating an easy way to determine the sped of your flight purely by ear.
Top quality custom gears and flap sounds, helping you to tell what the aircraft is doing and correlate performance with the sounds heard.
Customized stalling and wheel rumble sounds are added, too. This is an important part of the ambiance and can help you really stay on the right track as a pilot.
High-quality cockpit sounds deliver an impressive level of ambiance, really helping to build on the experience from the cockpit as well as from the exterior.
Takes into account the A-10 performance management systems, helping to create an ambiance that imitates the sound of the aircraft kicking into full action.
Captures the right volumes of sound from the cockpit, ensuring that sounds always feel within the correct contextual volume with regards to where you are.
Submit a review of this product
Customers Also Purchased