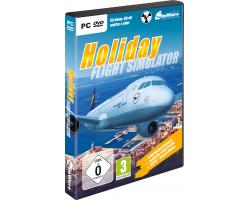 Media Format

Immediate Download

Compatibility

Stand Alone Simulator compatible with Windows 7, 8 and 10
PLEASE NOTE: Purchasing this product provides you with a Steam key which you must use on Steam to download the software. You do not download directly from SimShack. Once you place your order, your Steam key will be provided in your order history page as a serial number.
Sometimes, itís good to just get away. Taking off for holiday is a uniquely enjoyable experience, knowing that we have days, even weeks, of relaxation to come.
In Holiday Flight Simulator, though, you take on the role of making sure you can help your own dream holiday go down without a hitch.
Take on the role of the pilot of popular jetliner aircraft like the Airbus A320. From there, you can fly to a series of well-represented locations, helping people to enjoy a safe, secure and punctual trip abroad.
This simulator is a fantastic starting point for anyone looking to learn the early basics of flight simulation. Working through the hours to come of learning, youíll eventually learn to take on a more comprehensive simulation experience as time goes on.
For those already comfortable at the helm of a plane, this will help you to experience the high-pressure holiday flight experience with nothing held back.
Now, you can take control of making sure that people just like you can get to and from their holiday without any issue.
Youíll be in control of many vital functions as the head of the aircraft. With helpful real-life recordings always creating the right kind of immersion whilst offering assistance, you can feel right at home regardless of experience level.
Want to take on shorter and smaller flights? Then you can use the provide Beechcraft Baron to do just that.
Whatís Included?
Immediately after purchase, activated simply by using the provided Steam key via the Steam client, you will have access to nine major locations across Europe.
Lively and immersive scenery in each airport helps them to feel more alive, too. from luggage carts to jetways, you can enjoy working with and around all manner of classic aviation equipment, too.
With impressive 3D representations of each area as well as a day/night cycle which shuffles the feel of each area, you can enjoy a much more immersive flying experience than before.
Perfect for those who are just beginning out, Holiday Flight Simulator is a must-try for anyone who wants to see what being a pilot would be like. Want to test your skills as a Ďproperí pilot? Then try out the extensive but rewarding Career Mode and see how you handle the day-to-day challenges of being a pilot.
The aircraft that you can pick from include the Airbus A320 and the Beechcraft Baron.
In terms of locations, you will be able to fly to:
Hamburg
Dusseldorf
Zurich
Paris (Orly)
London (Heathrow)
Nice
Palma
Kos
Antaly
You can also make use of various game modes, from Tutorial mode to the Random or Route Selection modes. You can also enjoy a more direct experience via the new Career Mode included.
Submit a review of this product
Customers Also Purchased