A Guide to Flight Simulator: MSFS Tutorials & Walkthroughs

22 reviews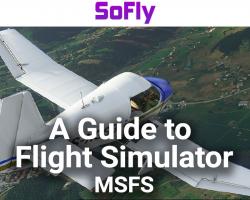 Media Format

Immediate Download

Compatibility

Microsoft Flight Simulator (MSFS) 2020 Release / Stand Alone (PDF Document)

File size

225 MB

Pages

200
A complete guide covering many features of Microsoft's latest flight simulator, "Microsoft Flight Simulator" or MSFS as it's abbreviated as. Some veteran flight simmers have also affectionately abbreviated it as FS2020. This huge digital document covers tutorials, walkthroughs, and guides to help you through the first steps of learning the new sim.
Touted as "the missing manual" or the "manual that Microsoft didn't include" - this guide is basically a manual which includes tutorials and walkthroughs for Microsoft Flight Simulator (2020 release) that is ideal for the new simmer who has just made their purchase. It's also equally beneficial for the veteran flight simmer that is new to the brand-new platform.
NOTE: Previous purchasers can re-download this new version by visiting their order history page and choosing "Download Latest Version".
This stunning 200-page digital guide is packed full of inspiring visuals to support you in your new flight simulator. Discover what you need to know from flying with ATC and configuring camera controls, to using the accessible user interface (UI) and completing your first training flight.
Spend more time flying in your new simulator with the best possible set up. SoFly's team of experts have carefully crafted an easy to follow guide, enabling you to swiftly adapt your settings to maximize performance without compromising the look of your new simulator.
A Guide to Flight Simulator will provide you with detailed information for each of the hand-crafted airports, whilst the tips and tricks from certified pilots will give you the confidence needed to complete complicated maneuvers and land at challenging airports. Detailed specs will help you understand each of the included aircraft to help you become the best virtual pilot.
The step-by-step tutorials included throughout will walk you through your first flights in the simulator, and provide you with travel inspiration for your next virtual flight. You'll soon be able to fly solo or online with your friends using live settings.
'A Guide to Flight Simulator' is the perfect travel companion for anyone using the new flight simulator, regardless of the level of experience or knowledge.
Features
Over 200 pages of detailed content guiding you to have the best flight simulation experience
A step-by-step tutorial for you to learn about the aircraft and how they handle
Detailed information on every hand-crafted airports
Detailed information on each included aircraft
Tips to maximize the performance of your simulator
A walkthrough on how to use built-in features, such as ATC, camera controls, and more
Detailed information on how to set up multiplayer flights with ease
Inspiration on landmarks and cities to explore
New challenges to test your piloting skills
Walkthrough tutorials for your first flights
Guidance on how to use the UI and explore the world with ease
Note: This guide is printable - please view the "Contents" page for instructions on how to do so.
Updates
Below are updates to the guide that have been released since the initial release. Existing purchasers can benefit from these updates free-of-charge by re-downloading the latest version from their SimShack order history pages.
Update 23rd September 2020 (now version 1.4)
NEW - Snow and Weather Manipulation
NEW - Handling Icing In Your Aircraft
NEW - Accessibility Options
NEW - Updating Your Simulator
ADDED - Key features of simulator build 1.8.3.0
ADDED - Information on in-sim menu after build update 1.8.3.0
ADDED - Updated back cover
FIX - Acronym error on Page 134
Update 16th September 2020 (now version 1.3)
Version 1.3 focuses on an all-new tutorial for the fantastic TBM 930. This fast, dynamic and exciting aircraft packs a punch when flying thanks to its aerodynamic design.
Because it features nice onboard equipment, retractable landing gear and also packs huge range and cruising altitude, we felt users of the guide would appreciate going beyond the smaller Cessna aircraft.
The tutorial will take customers on a trip from Telluride Airport over to Aspen Airport, whilst navigating the dangerous terrain down below. Not only does the guide go over flying, but also how to program a VOR, use the onboard autopilot and also an introduction to using SkyVector to help with flight planning.
This is really an extensive update!
Another key part of this update is the inclusion of linked page numbers. We had numerous pieces of feedback asking for this to be implemented and now we have. Thanks to all of those customers who have given us feedback so we can continue to improve the quality of the guide.
The update brings an additional 20 pages (total now 190).
Changes
NEW - TBM 930 Tutorial [Part of TBM Tutorial]
NEW - Information on SkyVector Flight Planning [Part of TBM Tutorial]
NEW - Information on using VOR navigation [Part of TBM Tutorial]
ADDED - Page numbers now link directly to pages within the guide
FIX - Minor spelling error on In-Sim Menu Options on page 48
FIX - Minor spelling error on ATC communication options on page 49
FIX - Minor spelling errors on Airliner section on pages 68 and 69
FIX - Some page numbers were incorrect after guide updates; now fixed
Update 9th September 2020 (now version 1.2)
The SoFly Guide to Flight Simulator has been updated to version 1.20 for all current and future customers. This free update will help you to master the G1000 in a number of aircraft found in the new Microsoft Flight Simulator. From understanding the built-in autopilot functionality to a complete training flight, the new update focusing on the G1000 will help you further developer your virtual flying skills.
In addition, customers will now find a complete key combination listing that can be printed out to keep nearby whilst flying for instant access to those default commands. Spend more time flying than second-guessing the control options.
Changes
NEW - G1000 Tutorial
NEW - Airport Manoeuvring
NEW - Primary Key Controls
FIX - Corrected airport elevation for Sydney International Airport (YSSY)
Update 28th August 2020 (now version 1.1)
NEW - Boosting Performance for your Simulator
NEW - How to Find Animals
NEW - How to Unlock All Achievements in the Simulator
NEW - Information on how to print and move to a different device
ADDED - Remaining Airports
ADDED - New Tips for Multiplayer
ADDED - Link to Blog Post for Improving Download Speed on Installation
FIX - Corrected Logitech Error on Page 15
FIX - Corrected Gibraltar ICAO code on page 80
FIX - Changed details about server availability on page 120
Customer Reviews
Rated 4.8/5.0 based on 22 customer reviews
09/05/2020

5

/

5

Verified Purchase

WOW! What a beautiful well-designed book for the Microsoft Flight Simulator 2020. This book is exactly what I need to get familiar with the new MSFS 2020. I like how the book starts out with the history of flight simulators. I can relate to that as I still have the first flight simulator FS1. I bought that flight simulator in 1980 for my Apple 2 plus. I still have the floppy diskette and the manual.

The book goes on to explain the menu system and continues on with the aircraft and airports included with the flight simulator. The training section is also nicely written and easy to follow. I have not read the complete book as of yet, however, every day I progress a little bit further page by page. Another feature I really appreciate is the ability to print out the book. I prefer to have a hard-copy book next to me when I am learning to fly the flight simulator. For me, it is just easier. I printed the book on double-sided Matt Presentation paper which really brings out the beautiful colors of the book. Additional features I would love to see in future additions of the book or a second book would be a nice one or two-page keyboard command list, a list of detailed cities included with the simulator, more in-depth descriptions of some of the more important flight instruments.

Together, this book and the new Microsoft Flight Simulator 2020 will make learning to fly much more fun and easier to learn.

Thank you SoFly
08/28/2020

5

/

5

Dear Sir Your new book on Microsoft Flight simulator appears excellent. But am I able to print it,, out as an old 78 year old Aussie, this would be beaut if I could do this, so I would be able to set the settings correcly. I have many ours in DH 82 Tiger Moth aircraft DHC1 Chipmunk Aircraft and Pawnee 235 250 Aircraft and Also A9A callair Aircraft so my main flying is with out ATC in the SA Country, and Bush. In FSX I did not have any other aircraft, started the Engine by CTL E, and used the full page map provided under Options In 2020 can I switvch of ATC Is there a map as in FSX so you can check where you are as well as other airports near you Can you Switch off all trafic Can I start Engines wuth Control E Or do I have to do a full cockpit check, it is hard to do this if you do not know the aircraft you would have to haavea printed book to be able to do that Kindest regards Bob
09/13/2020

4

/

5

Verified Purchase

As an Alpha/Beta tester of MSFS2020, one of the areas I have been critical of is the complete lack of documentation and reference material provided with the software, especially from the perspective of the less experienced flight sim user. The release of this guide is a decent start that covers many of the basic software interactions necessary to avoid what could prove to be an otherwise frustrating learning curve for some users. The guide appears to be a work in progress and hopefully will address basics of IFR, including ILS and the use of FMS. I would also like to see the pdf document incorporate links to the table of contents with corresponding bookmarks. This would make document navigation so much easier.

Keep up the good work
08/28/2020

5

/

5

Verified Purchase

I think we are very fortunate to live in an age in which constant changes offer us unexpected opportunities in the scenario of life from which we draw incredible knowledge and satisfaction for other times. Certainly one of these possibilities is given to us by the advent of flight simulators and their evolving and presenting themselves in their unspeakable beauty. Certainly one of these is the advent of the MSFS simulator and whose Tutorial gives us the way to know and appreciate it, in the novelty of the development of flight simulators in the brand new and beautiful graphic representations. He thought you deserve to be very lucky. Regards
09/24/2020

5

/

5

Verified Purchase

Being a 78 years old Flight Sim enthusiasts who has had every one of the Microsoft Flight Sims the arrival of FS2020 has been a great event, however it requires a significant learning curve plus a new yoke setup as my old MS Sidewinder Force Feedback had to be retired as being non compatible!!! My initial read of this guide has been a great relief as I am sure that it will be of great assistance to me and having just recently finally retired I am really looking forward to getting stuck into it. Thanks and much appreciation for its production!
09/02/2020

5

/

5

Verified Purchase

At first, fast reading, the book I thought it was incomplete missing keyboard controls. But when I took the time to read it carefully I realize that this book is very impressive and a superb collection for msfs2020.

Everyone who has the chance to buy it I recommend it. In the past, I have bought Microsoft flight simulator X Master official guide book and now bought this one for msfs2020 and very happy to have it in my flight simulator collection.

thank you

Lucien Paquette
09/15/2020

5

/

5

Verified Purchase

Very useful aide. As a long term user of previous FSX I was struggling with new MSFS. This manual is well laid out and easy to read & understand. The walkthroughs are a good way of putting the information into practice. I will definitely get more out of FS2020 thanks to reading this. I look forward to the updates for the manual as they are released, great work and a massive thank you to the authors 👍🏻
09/07/2020

5

/

5

Verified Purchase

WOW! I carry a FAA "Commercial Certificate" since the mid-1970s, and have been flying sims since day #1. For a very modest investment, this guide is well worth the money - provides easy access to information in ONE LOCATION. Staff, thanks for all of your hard work and time invested.

GREAT JOB! I look forward to updates and "tips". The section regarding Video Card Drivers is worth the investment.
08/28/2020

3

/

5

Verified Purchase

Just purchased this tutorial but could not print it out. I am old school and wanted it sitting next to my new gaming laptop that I purchased to be able to max out MS FS2020. I have emailed them to see how this can be done but it will be hard to try and read this on the same computer I am trying to learn all the new controls on. If I cannot print it out then I just wasted $13.
09/10/2020

5

/

5

Verified Purchase

Since the online purchased version of MSFS 2020 came without any manual at all this fills that gap first of all. However it goes much further with considerable detail and additional content and guidance. The purchase process and download system from Simshack is smooth and super easy and fast. Thank you. I had no issues printing this manual btw.
09/03/2020

4

/

5

Verified Purchase

I only downloaded the book a few hours ago and therefore have not used it just a quick browse. What I have seen I am impressed. I would have preferred if you got in touch with me about the book in a few weeks instead of a few hours later. I do not usually give reviews but this time is different as i believe in the product.
09/08/2020

5

/

5

Verified Purchase

I have not had a thourgh look through the guide as yet but i can see where you can add more Maybe do a chapter on programming the FMC that might help one or two people who are having difficulty with this. Overall it`s a good guide again i need to take a good look through it and if i have any ideas i will let you know.
09/07/2020

5

/

5

Verified Purchase

A must have guide since this simulator is a complicated piece of software. Now you have the possibility to print the guide which was important for me. I have one remark, I would like page numbers to appear on each page and printed as well. Thanks for this guide.
09/01/2020

5

/

5

Thanks for all your comments and feedback. Because of your feedback, we are delighted to say you can now print the guide upon purchase. The details on how to do so can be found on Page 4 of the guide.

We hope you enjoy!
09/01/2020

5

/

5

Verified Purchase

Swift procedure. Select pay by credit card, download the zip file. Just so easy! The manual is full of colorful pictures and easy to read. Certainly, I'll have more good landings...
09/12/2020

5

/

5

Verified Purchase

lots of information ,as a ninety year old newcomer to flight simulation this book is just what i needed , well worth the price.
08/30/2020

5

/

5

Verified Purchase

This is an excellent publication for anyone who has or is contemplating purchasing Microsoft Flight Simulator 2020
09/14/2020

5

/

5

Verified Purchase

This is a great guide for MFS2020. It will also be updated along the way.
09/21/2020

5

/

5

The MSFS USER GUIDE I'm thinking about getting this amazing User guide
08/31/2020

5

/

5

Thanks for your reviews I will hold off until I can print.
09/21/2020

5

/

5

I guess it is written in Spanish and can be printed?
09/05/2020

5

/

5

Verified Purchase

it is a good product I would also like to print it
Submit a review of this product
Customers Also Purchased