This addon is compatible with
Microsoft Flight Simulator X
. It should also work with
Microsoft Flight Simulator X: Steam Edition
. Some developers have explicitly stated compatibilty with Steam Edition but others haven't. Check the product description below for guaranteed compatibility. Just because it doesn't mention it, this does not mean it will not work with the
Steam Edition
.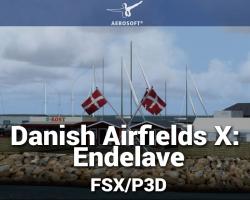 Media Format

Immediate Download

Compatibility

Microsoft Flight Simulator X inc. Steam Edition & Prepar3D v4, v5

File size

312 MB
When visiting the nation of Denmark, part of what makes it so special is its unique rural charm. Itís a fantastic place to fly over and visit, with so many unique pieces of scenery to be seen across the board. The island of Endelave, for example, is major let down by a lack of design and precision in both FSX and P3D.
This helps to add some much-needed care and attention to detail. Now, it stands out totally different from mainland Denmark. This adds much greater levels of scenery to the island, ensuring it looks much more precise and closer to what one would see on a real-life trip here.
This scenery package, then, adds in a whole new look to Endelave Airfield and also the isle of Endelave itself. This little eastern Jutland island now looks far closer to what one would expect, with impressive details making this small island stand out like never before.
Endelave Airport is a major part of the attraction; a commonly used and much loved little airport that is known by European pilots. Whether you have ever been or want to see a close take on it yourself, download this mod and try it out!
Key Features
A fresh take on the island of Endelave in its entirety. New freshly made, bespoke buildings litter the land, with high-resolution textures and impressive airfield buildings making it stand out.
High-quality scenery helps each building really stand out, with major landmarks and key locations all coming to life.
Autogen buildings are added in, too, making sure that everything from classic Danish farmhouses to trees and other natural landscaping all comes to life and looks absolutely fantastic at the same time.
Top quality GA AI traffic is used for FSX users, too, making each trip to Endelave more enjoyable. Watch as the populace of the island and its cadre of pilots fly and move around!
This island is made to be much more hospitable with the help of new ambient sounds. This helps to add that quiet, rural nature of the island ensuring that it feels far more welcoming to visit.
Seasonal changes ensure that visiting here can leave you with a very impressive and hospitable experience. Whether in winter or summer, Endelave now looks better than ever before!
All grass, flowers, and bushes are designed in a manner that really adds a much-needed level of depth to the ground. Now, the whole island looks alive, not just the roads, cities and skies!
A fresh take on Endelave Airport, making sure you have impressive 30cm/pixel quality leaving every part of the airport looking as crisp and as fresh as you could realistically expect.
Submit a review of this product