CRJ 700/900 X for FSX/P3D

1 reviews


This addon is compatible with
Microsoft Flight Simulator X
. It should also work with
Microsoft Flight Simulator X: Steam Edition
. Some developers have explicitly stated compatibilty with Steam Edition but others haven't. Check the product description below for guaranteed compatibility. Just because it doesn't mention it, this does not mean it will not work with the
Steam Edition
.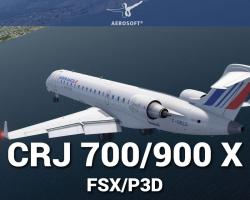 Media Format

Immediate Download

Compatibility

Microsoft Flight Simulator X inc. Steam Edition & Prepar3D (v4.3+ only)

File size

1.1 GB
Flight simulation fans, given the time constraints of life, often prefer a shorter flight. It's merely part of being able to get to enjoy the whole thrill of a flight; setup, departure, and arrival. This is part of the fun of flying, of course. For those with a time limit or limited patience, you'll find the CRJ 700/900 X package may offer the timely yet enjoyable flight you are looking for.
The Bombardier CRJ 700 and 900 in real-life are well-respected regional airlines. The performance and consistency they provide is part of what makes them so popular. For virtual pilots, too, this aircraft is one that you can easily feel at home at the helm of. Efficient, reliable, effective and easy to control for veterans and beginners alike. This looks to make sure that the aircraft provides the agility and ease of control that it's so well-known for in real life. If you would like to fly an aircraft with personality, then the CRJ 700 and 900 make fine starting points.
Developed with the idea of closer simulation in mind, this helps to capture the experience with gusto. You will find that the simulation found at the helm of either aircraft is delivered with making those quicker, more enjoyable flights possible. With as much realism as you want whilst giving you the perfect aircraft to fly in, you'll find yourself at home here.
Renewed Realism
With the aim of meeting the pilots' expectations high on the list, the CRJ 700 and 900 provide an exhilarating experience. Both aircraft are fully FPS friendly, making sure that you can get a high level of performance without always needing top-end hardware. Also, the aircraft come programmed to work with August 2017' Navigraph and NavDataPro.
This is an experience that has been kept up-to-date. If you want more control over flights despite the time constraints, this package makes doing so much easier.
Key Features
The exceptional detail on the animation and the modeling allows for a much richer visual performance. Despite the reduced FPS demands, this captures both aircraft realistically.
Full access to a complete MCDU, with full keyboard control options.
2D windows which can provide high resolution, crisp displays for easier reading.
Panel state saving and loading for quicker preference management in future flights.
Sound sets created by Turbine Sound Systems allows for a more integrated audio experience. Backed up by new sounds added courtesy of Aerosoft.
A new heads-up guidance system to keep you on-track with the flight without losing concentration.
13 liveries per aircraft, all selectable using the livery manager for quick and simple switching.
Fully prepared for use in PFPX, AES and Chase Plane.
Edit the hardware as much as you like using the variety of options on the market. Excellent for adjusting everything from hardware control to nose wheel steering.
Checklists, fuel, and passenger assistance via the virtual cockpit tool, DAVE.
Various manuals to help you handle every aspect of flying this aircraft without any challenges.
Fully P3D v4 compatible for simple use, including new lighting features i.e. dynamic lighting.
Customer Reviews
Rated 4.0/5.0 based on 1 customer reviews
08/22/2018

4

/

5

Very good. You get what you pay for

Exterior:9/10 Cockpit:9/10 Sound:9/10 Value:9/10

Overall:8.5/10

This is the quality if Aerosoft I recommend the company and all their planes.
Submit a review of this product
Customers Also Purchased