This addon is compatible with
Microsoft Flight Simulator X
. It should also work with
Microsoft Flight Simulator X: Steam Edition
. Some developers have explicitly stated compatibilty with Steam Edition but others haven't. Check the product description below for guaranteed compatibility. Just because it doesn't mention it, this does not mean it will not work with the
Steam Edition
.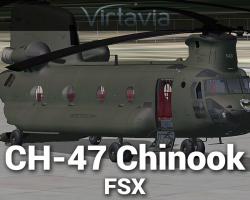 Media Format

Immediate Download

Compatibility

Microsoft Flight Simulator X

File size

88 MB
As one of the most versatile military aircraft ever created, the CH-47 Chinook is a favorite with both helicopter fans and military personnel alike. For the soldiers, it's loved due to its comfort when traveling and the sheer depth that it brings to the table in terms of flight quality, and for the pilots it's loved due to the fact it can be controlled with such ease.
The helicopter has seen more than 1,000 built and has even superseded the brilliant 'Huey' as the go-to aircraft for the US Military.
As far as transport for military operations goes, very few aircraft can even get close to the Chinook and now – thanks to this mod – you can see why its reputation has held out for such a considerably long time.
What's Included?
Outside of incredible levels of detail and realism across the board, this aircraft comes with a unique selection of liveries to pick from that look excellent and really do sell the style and format of the aircraft perfectly!
In this package, you will gain access to various high-resolution liveries for each aircraft. This brings them all together perfectly, making it easy for you to find a style of the Chinook that you might recognize – the models that are included within this package will include;
US Army, 5th Btn, 159th Aviation Rgmt, 12th Aviation Bgd
HC.1B (CH-47C), Royal Air Force, 18 Sqn, RAF Odiham, England, c. 1990
Australian Army Aviation Corps, C Squadron, 5 Aviation Regiment, Townsville, Queensland, AUS
Key Features
This package makes use of the original, native FSX model whilst using its various additions and improvements to bring the whole thing to life in a whole new way. The entire package will feel realistic and engaging when you are using this, making sure that it becomes nice and easy to control as well as a hugely simplistic and easy solution to manage thanks to the level of precision in the detail, meaning nothing is ever blending in too much or does not look right!

The 2-engine control feature has been included if you are using the FSX Acceleration package, which can be incredibly useful if you want to ring the whole thing together. To do this, you just need to make use of the additional Aircraft.cfg file that has been included within this package, when needed

The virtual cockpit also comes with deep and precise detail, capturing the style and format of the aircraft perfectly. The authentic design and detail that this brings to the table is exceptional, creating a really comfortable cockpit that is a pleasure to sit in. this makes it much easier to buy into the aircraft and to feel as if you are really part of the real thing, such is the attention to detail provided across the cockpit. Various mousable controls are included alongside authentic animations that really capture things perfectly

Various new features included in the virtual cockpit to make it far more accessible, alongside brilliant hi-res gauges and customized system functions. New switches, too, have been included that make it incredibly easy for you to manage and control the aircraft as you move forward using a truly exciting control-panel! The whole thing comes together in the most detailed and specific fashion, with the hi-res gauges proving easy to read whether you are flying during the night or the day!

A massive attention to detail in the rear cabin area within the virtual cockpit, giving you extra locations to go and see as well as new features that you may not have had access to in previous equivalents of the Chinook, capturing the way that it looks and feels in the most dramatic and realistic manner that you possibly can

Separate gauges are used at night when you are flying in this aircraft so that you can get the right level of visibility when flying – with the right lighting being included so that you can fly at night, you should have no problem seeing what is going on within the cockpit thanks to the increased level of lighting that has been added in

Animated side-entry door and 3-position rear ramp assembly additions are included to take it even further in terms of detail and precision, giving you the most realistic entry for the Chinook possible so that you can truly see the depth and precision that the aircraft actually carries

Pilot figures are added into the cockpit so that they can feel realistic and to give you that real appreciation of what the interior of an aircraft like this would feel like. Also, now you no longer feel as if you are flying a ghost aircraft which is always helpful!

The whole thing comes together perfectly thanks to the soldier figures included in the US version of this aircraft. Again, it makes the whole journey feel far more realistic and also makes it seem as if you have a genuine purpose for being on the Chinook in the first place!

Brilliant sound set has been created and included to give you the perfect sound and idea of what it would be like to be in the cockpit of something like this, with the sound travelling and reverberating just as it would if you were to be in the Chinook itself

Flight dynamics that have been researcher and improved to ensure they match the real thing, capturing that level of realism and quality that is so desperately needed with a project like this, making sure that you can get used to the renowned balance and ease of use that the Chinook comes with

Multiple internal and external viewpoints to make sure that you can see everything unfolding around you as you fly, giving you a true realization of just how much fun it can be to fly in an aircraft like this!

No 2D panels are provided with this package, thanks to the addition of the brilliant 3D gauges and additions within the cockpit itself, bringing the whole thing to life in the most spectacular fashion
Submit a review of this product
Customers Also Purchased