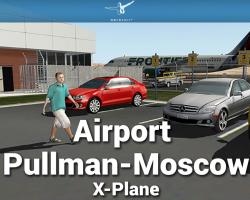 Media Format

Immediate Download

Compatibility

X-Plane 10.40+ and X-Plane Steam Version

File size

900 MB
The Pullman-Moscow airport is one that many people will fly over but probably not visit too often – the original included in P3D is, for lack of a better word, awful. Thankfully, with this add-on you can make this fine regional airport come to life and make it look far better than ever before. It's an airport that lacks a lot of detail and precision, and with this you get an excellently detailed range of improvements.
Not only does this fit in line with the designs that have been placed originally, but it also makes use of fantastic 0.3m/pixel scenery to make sure the imagery being used is spot on. Not only this but it uses authentic textures for each and every building to ensure the look and theme of the airport is just right.
From being used for the Idaho and Washington State University sports team games to taking an Alaska Airlines flight from Pullman-Moscow to Seattle, this airport can finally be used for its true purpose in X-Plane!
Key Additions
A comprehensive change to the scenery and the overall style of the region. Helps to make sure that the airport alone is not changed, but the entire scenery too.

Aerial images are being used covering more than 59km2 of coverage with a resolution of nothing less than .3m per pixel. Helps to add a really in-depth look and feel to the region, making it more enjoyable and authentic.

Photorealistic building textures are included which look wonderful, helping to sell the look and feel of the airport and also making sure that you can get in and out of here without any problems whatsoever. Now, you'll know exactly where you are trying to go in the airport!

Makes use of the HD Mesh and G2XPL mods to help adapt the default mesh to improve it even further. The end result is a really comfortable looking set of fresh adaptions.

The city of Pullman has been changed and adjusted too, with various major landmarks there being used. From the Martin Stadium to the Beasley Coliseum you can quickly enjoy a deep and inspective look at the city of Pullman thanks to this mod.

Take control of your enjoyment of the airport by using 3D grass. If you find that this limits performance too much, though, it can be turned off in the settings with just a few clicks and alterations.

Hundreds of new, hand-placed trees have been included along the way to help make the entire region blend together and make the most inviting form of Pullman-Moscow come to life.

Static aircraft help to populate the area and make the whole place feel a whole lot more enjoyable to visit.

Static and animated vehicles are being used to help make the place feel more alive even further, helping to create the atmosphere that you would expect in such a busy venue.

A manual is included for help and assistance whether you are English or German. Easy to ready and makes learning about the airport fun!
Submit a review of this product