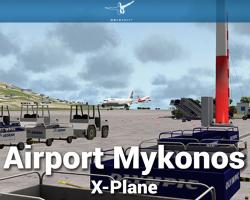 Media Format

Immediate Download

Compatibility

X-Plane 10.40+ or X-Plane Steam Version

File size

590 MB
Were you to listen to the ancient legends and tales of Greece, then the island of Mykonos holds unique mythological history. Indeed, it was supposed to have arisen from the seas as Hercules dispatched two giants, throwing them into the sea and thus watching them turn to stone.
As one of the most popular islands in the region to visit, the rich and mythological Mykonos makes an amazing holiday destination. However, if you were to fly here in X-Plane, you might feel somewhat let down.
Now, Airport Mykonos, the international airport of the island, is delivered in a much more spectacular style.
Created using a rich series of landmarks and with the correct white and blue facades, everything changes. The whole area changes, with many of the famous chapels of the area appearing and many even located within the airport perimeter itself.
On top of that, many new Mykonos landmarks appear, using 0.5m/pixel scenery to help detail the whole island as best as is possible. The town is detailed and rich with new features, using over 1,000 new buildings to fully populate the town itself.
The airport itself, too, is perfectly detailed and now easily welcomes the arrival of all manner of aircraft, from airliners to private charter flights.
What's New?
A wonderful take on the wider island of Mykonos as well as Mykonos International Airport.
140km2 of immersive detailed throughout, with rich and detailed scenery created for both day and night. Mixed with new terrain mesh and 3D grass/vegetation.
2000 new objects placed across the town of Mykonos, with a total reconstruction of the airport – and its lighting sources.
Impressive new changes to the airport ensure that many new X-Plane features exist, including the use of HDR lighting and Ultra HD textures.
5cm/pixel around ground textures is used around the wider area of the airport.
Animated traffic moves around the airport, alongside animated ship traffic and even fully working windmills.
Fully compatible with X-Plane 10 HD Mesh Scenery v2.
Submit a review of this product