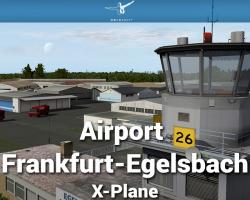 Media Format

Immediate Download

Compatibility

X-Plane 10.50+, X-Plane 11 and X-Plane 11/10 Steam Version

File size

540 MB
A trip to the major German commercial hub of Frankfurt should, of course, be a hugely enjoyable experience. This rich and satisfying city is among the most important in Germany and is really a major part of their thriving commerce sector. However, a trip to the city often feels quite barren due to the lack of detail and attention across the wider airport of Frankfurt-Egelsbach. This add-on looks to add some missing detail and ensure that the whole airport looks a bit more immersive and enjoyable to fly over.
X-Plane users will be used to parts of Frankfurt feeling a touch empty. With 0.5cm/pixel scenery, though, you are left with very crisp and richly detailed floor scenery. The whole airport will look much more in-scale and in-scope, and it should go a long way to improving trips to Frankfurt. All buildings and airport layouts are made following the original plans of the airport. Thanks to high-resolution textures for both today and night, this makes it easy for you to see a much more immersive experience overall.
The airport first opened in 1955, and since then has grown to become an important part of aviation in the Frankfurt area. It's become a major part of the Frankfurt industrial location, with various companies located here and also a helicopter base for the German Police.
What's new?
Impressive new add-ons to the airport ensure that all major airport facilities are now clearly visible throughout the airport.
Photorealistic imagery used for all buildings and vehicles, with 0.5m/pixel ground texture adding the required focus and sharpness throughout.
Textures for both day and night exist, making sure that Frankfurt-Egelsbach changes depending on the time of day that you arrive here.
Taxiway and runways edited and scaled to fit with real-life, all according to the original plans provided for the airport.
Newly improved animated wind display on the tower ensures the airport feels more immersive in general.
Various other small animations included, such as opening hangar doors, fire brigade teams, aircraft towing and various other features.
A fully written English and German manual is included, making it easy for users to pick up key facts about Airport Frankfurt-Egelsbach.
Fully compatible with both X-Plane 10.50+ and X-Plane 11.
Submit a review of this product